30-Year-Old Discharges From Summit Commons After Years of Intense Therapy
PROVIDENCE, R.I. — Mikhaila Prado was 28 years old when she experienced a catastrophic event in May 2021 that landed her in the hospital. That stay became complicated and prolonged.
During her time in the hospital, she experienced cardiac and respiratory arrest which required intubation and a trach, septic shock, and short-term hemodialysis. She had a stroke. She and her family were often unsure how much time she had left. She was discharged from the hospital and sent to a nursing home. Her wound got infected while there and she had to return to Rhode Island Hospital. After the second hospital stay, she was then transferred to Summit Commons Rehabilitation and Health Care Center. Prado had significant wounds on her hip, ankle contractures, and quadriparesis, a condition with muscle weakness in the legs and arms. She was also placed on oxygen. She couldn't do anything for herself, not eat nor reposition herself in bed.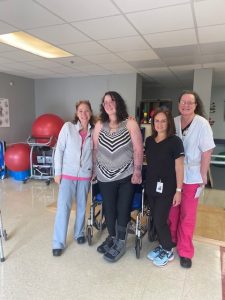 "The anxiety was horrific because I was paralyzed and couldn't move at all so I had to put my trust in everybody for everything," Prado said.
Prado was determined to get better, though. She threw herself into recovery which was a slow process. It included wound care and intense physical and occupational therapy multiple times a week. After some time, she started to build strength and could help staff with rolling herself over. She no longer needed oxygen. Six months in, she could hold her phone and call a friend for the first time since May 2021. The Warwick native recalls the first time being able to get to the edge of the bed without the support of therapists as it once was. Fear and anxiety filled her, but she did it.
A dynamic splint on her ankle remains and she has to undergo manual stretching and Botox injections.
The now 30-year-old is getting ready to go home. Her wounds are healed. She can get out of bed on her own, dress herself, get in and out of a car, and walk short distances with a walker. Stairs are her next journey to tackle, but that's how all the challenges started and now she is able to do many things normally again. She'll be able to walk longer distances once her ankle and foot brace comes in. With the help of the dietary team, Prado has lost 50 pounds. A home evaluation is being planned with the Summit Commons therapy team to ensure her grandmother's home is safe for Prado's return.
"Coming here was the best thing that could have ever possibly happened to me. The people here are amazing," she said. "I'm getting through it. I'm doing a lot better now."
The work ethic and optimism of Prado have inspired the Summit Commons staff. She maintained motivation and drive even through illness and setbacks.
"I am the happiest I've ever been. I am more patient. I am ready for new beginnings. I'm ready to live my life again. This changed my life for the better. You have to go through horrific storms to find yourself and find the beauty in life," she said. "You can do anything you put your mind to."
Prado said it's important to keep a positive spirit because good thoughts impact reality. She would end every night making a list of things she was grateful for from friends and family to the Summit Commons staff to the view outside her window. While there was doubt sometimes, she learned how to believe in herself.
After her planned late-June discharge, she wants to follow her dreams and get her poem book published.
"The best part about this place is the therapists. They're very knowledgeable, they know what they're talking about," she said. "God is real, miracles are real, life can change at any moment if you believe."
Follow Athena Health Care Systems on Twitter and Facebook & Summit Commons Rehabilitation and Health Care Center on Facebook. Interested in a career with Athena? Click here!
MORE FROM ATHENA