Inside Athena: Athena's Network Administrator Ensuring the Company's Technology is Up and Running
FARMINGTON, C.T. — Stephen Wood has been with the Athena family since 2006, starting in the kitchen at Valerie Manor.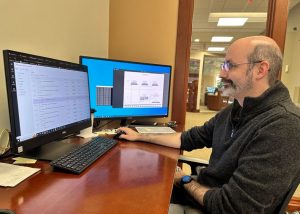 His mom and sister had also worked at the Torrington center. He stayed there for 12 years, but had a strong passion for technology and had the opportunity to pursue his passions in Athena's Farmington management office.
Wood joined the I.T. team at the help desk, answering calls and technical support questions from centers across Southern New England. He then moved into a Field Tech role, traveling to the centers for technical support. A year later, in 2022, he became the Network Administrator.
"I check if anything is down. We monitor a lot of the critical things around the company, all the buildings. Make sure everything's showing green, make sure that the Internets are good," Wood said.
He spends his day making sure the phone lines, internet, time clocks, and everything else connected to the system network are up and running. He's making sure licenses are up-to-date, creating accounts, ensuring backups are working, and so much more, including keeping the Field Techs notified of any issues.
"I'm always looking out for any hardware issues or any software issues in the buildings and, if I hear of something that is kind of critical, I can let the tech know and they can schedule sooner to get to that building," Wood said.
He notes an active I.T. team is crucial in healthcare and is always available to help the Athena team, and occasionally other companies, with their technical questions.
"Sometimes it will be a vendor that [the centers] go through and if they are having trouble with that vendor, getting into their account, they'll reach out to us as well. It goes outside of Athena-managed accounts. We assist with vendors, too," Wood said. "Maybe they'll have an account with some hospital and if they're having issues they'll reach out to us as well."
Wood attended Southern Connecticut State University and graduated with a degree in graphic design. It was a switch from what he initially went for… computer science. He decided graphic design wasn't where his passions were, and has found a career that he really does enjoy.
"I get to work with computers and networks. I get a lot of joy about that and helping people. It's a good place to be able to assist people. Even just being in the kitchen, doing what I can to assist the residents," he said. "Then it was food, now it's being able to make sure that employees have what they need to get their jobs done."
"Steve is a wonderful asset to the I.T. department here at Athena," I.T. Manager Nate Frisbie said. "Not only does he excel at his Systems Admin role, but is also a great resource for the Techs and helpdesk staff when they are in need of additional high-level assistance."
"I always felt like Athena was very family-orientated," Wood said. "It always felt very family like… it wasn't just a job."
Follow Athena Health Care Systems on Twitter and Facebook. Interested in a career with Athena? Click here!
MORE FROM ATHENA