Honoring WW2 Veteran William Monteiro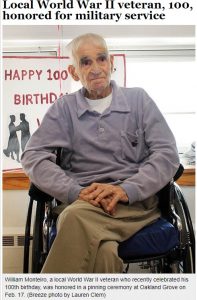 On February 17th, William Monteiro was honored at the Oakland Grove Health Care Center for being a member of the Air force from April 1942-November 1945. Monteiro was given a pin commemorating his service, and recently just turned 100 on January, 31st. Click on the link below for additional information.
Congratulations William and happy-belated birthday!!
https://www.valleybreeze.com/2020-03-04/woonsocket-north-smithfield/local-world-war-ii-veteran-100-honored-military-service#.XmFLTqhKjIV