Athena Health Care Heroes
Athena Health Care Heroes
Jennifer Cisowski
Director of Nurses at Litchfield Woods Health Care Center
As Director of Nurses, Jen has been fully committed to taking care of her residents during this pandemic. Without a single day off, she's been working tirelessly to make sure everyone is taken care of. She has pushed a medical cart around every day, sometimes more than once per shift, as over 50 of her coworkers are out due to the virus.
Not only has Jennifer been instrumental in caring for patients, she's also one of the many healthcare workers who has sacrificed time with her family for the good of others. As a mother to two young daughters, Jen has been doing what she can to keep her kids safe – even if it means missing her daughter's 5th birthday while temporarily living in a hotel. She's even had to call the Mayor to keep the hotel from shutting down so she would have a safe place to stay.
Thank you for everything that you do to keep those around you safe.
≈≈≈≈≈≈≈≈≈≈
Erin Larose LPN, Rose McFarland CNA, Tracy Bouteiller CNA and Damiya Jones CNA. 
The Team at Abbott Terrace Health Center
This team deserves a standing ovation. From the moment they found out they would be receiving patients from a hospital affected by COVID-19, they have gone above and beyond to care for each patient with strength, empathy and compassion. They've stepped up to the plate to set a standard for the rest of the staff and have never given up.
Through tears, anxiety and fear of the unknown, they prevailed to show they are the best of the best. They continue to work countless hours to ensure their patients receive the highest quality of care. They have dedicated themselves to their work, distanced themselves from their families to keep them protected, and have continued to cheer each other on to get the job done. Regardless of the stressful situation they encounter every day, they continue to show up just to do it all again.
These staff members depict just a small portion of all the staff that has been amazing during this time. Abbott Terrace has proven that during difficult times they can stick together, stay focused and stay one amazing team.
Each and every single one of them has proven to be a hero.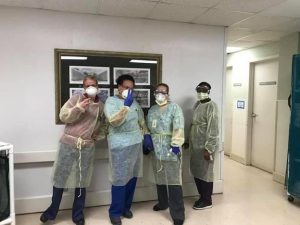 ≈≈≈≈≈≈≈≈≈≈
Sue Laub and Stephanie Turbiville
Physical Therapy Department at Laurel Ridge Center
Sue Laub and Stephanie Turbiville are dedicated to the health and safety of our residents, as well as their own families. They've both been staying in an apartment away from their children and families for the last month, in order to keep them safe and healthy.
Sue Laub has gone above and beyond in coordinating community outreach programs to get her team the PPE supplies they desperately needed, including cloth masks and shields, as well as speaking with local hotels to donate shower caps. She also arranged for a local tailor to sew some sleeves onto cloth gowns to take care of a shortage.
Sue and Stephanie inspire us all.
≈≈≈≈≈≈≈≈≈≈
Cody Phillips Rehab Director, Carmen Rivera Certified Nursing Assistant, Amiee Robinson RN, Christa Coccia ADNS, Kim Woodruff DNS, Brenda Fontaine ICN, and Christa Coccia ADNS 
The Team at Oakland Grove Health Care Center
Each of these hardworking staff members have gone above and beyond to help patients and staff at their facility. Some went to Orchard View Manor and helped with patient care, some went and tested over 100 residents in a matter of days, and others have been living in a hotel for the past month so they do not take anything home to their families.
From all of us here at Oakland Grove and Athena, thank you for your hard work and dedication.