Countryside Manor of Bristol Earns 2020 Bronze National Quality Award
August 11th, 2020 – Bristol, Connecticut – Countryside Manor of Bristol has been recognized as a 2020 recipient of the Bronze – Commitment to Quality Award for its commitment to improving the lives of residents through quality care. The distinction is the first of three progressive award levels through the National Quality Award Program, presented by the American Health Care Association and National Center for Assisted Living (AHCA/NCAL), the leading association for long term and post-acute care. The program honors association members across the country that have demonstrated their dedication to improving quality of care for seniors and persons with disabilities.
"We are proud to be honored for our commitment to improving quality," said Joel Carmichael, Administrator of Countryside Manor of Bristol "Working together to reach this milestone has made our team even better. We will not stop improving. Our goal is to achieve the Gold Award."
The National Quality Award Program, established by AHCA/NCAL in 1996, is based on the core values and criteria of the Baldrige Performance Excellence Program, which also serves as the foundation for the metric-based AHCA/NCAL Quality Initiative. The Baldrige framework helps organizations among different business sectors improve organizational effectiveness and achieve strategy-driven performance.
The Award Program has three levels: Bronze, Silver, and Gold. Providers begin the quality improvement process at the Bronze level, where they develop an organizational profile with essential performance elements such as vision, mission statement, and key strengths and challenges. Bronze applicants must also demonstrate their ability to implement a performance improvement system. Trained Examiners review each Bronze application to determine if the center has met the demands of the criteria. As a recipient of the Bronze – Commitment to Quality Award, Northbridge Health Care Center may now move forward in developing approaches and achieving performance levels that meet the Silver – Achievement in Quality Award criteria.
Larry Santilli, President of Athena Health Care Systems, Countryside's owner and manager stated "I am very proud of the Countryside team for their effort in achieving the Bronze Quality Award. This recognition is a testament to their commitment to their residents, their team, and enhancing our overall industry." Santilli went on to note "to achieve this award is no small feat – let alone in the times we face. Congratulations on this well-deserved achievement."
"I applaud Countryside Manor of Bristol for taking this important step towards quality improvement," said the AHCA/NCAL National Quality Award Board of Overseers Chair Alana Wolfe. "I encourage Countryside to continue their path to achieve the highest of quality care."
The awards will be presented during AHCA/NCAL's 71st Annual Convention and Exposition on October 22, 2020 at the virtual award ceremony.
###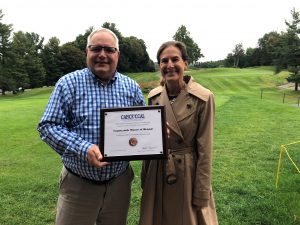 Because of COVID delays, the AHCA/NCAL Quality Initiative recognition ceremony was postponed. In October 2021, the Lieutenant Governor Susan Bysiewicz presented the Bronze – Commitment to Quality Award to Administrator, Joel Carmichael, pictured above.
###
ABOUT COUNTRYSIDE MANOR OF BRISTOL
Countryside Manor of Bristol offers the highest quality of senior living care along with rehabilitation, hospice, and dementia care. Our dedicated staff provides individualized care with compassion, dignity and respect. At our facility, you will find a warm and comfortable environment with cozy rooms, attractive common areas, a well-stocked library, and a beautiful outside courtyard with gazebo. If you are looking for care for you or your loved one, please come and visit our community and meet our professional staff. Call our admissions department today for more information or to schedule a private tour.
ABOUT AHCA/NCAL
The American Health Care Association and National Center for Assisted Living (AHCA/NCAL) represent more than 13,600 non-profit and proprietary skilled nursing centers, assisted living communities, sub-acute centers and homes for individuals with intellectual and developmental disabilities. By delivering solutions for quality care, AHCA/NCAL aims to improve the lives of the millions of frail, elderly and individuals with disabilities who receive long term or post-acute care in our member facilities each day. For more information, please visit www.ahca.org or www.ncal.org.