Introducing Jessie's Wellness Watch, a monthly blog on health and wellness
Welcome to Jessie's Wellness Watch!
My name is Jessie Browning and I am Athena Health Care Systems' Connecticut Wellness Director. In this blog, I will offer monthly tips, guidance, and recommendations centered around health and wellness.
I joined the Athena team as their Connecticut Wellness Director in 2021 with a background in health, wellness, and holistic healing. I graduated from Eastern Connecticut State University with a bachelor's degree of science in health and physical education in 2008 and went on to teach wellness classes to students in grades K-12 in Connecticut. In 2012, I finished my master's degree in integrated health and healing, which I was able to assimilate into my personal and professional life. In 2008, I received my certification as a Certified Personal Trainer and have been teaching one-on-one as well as group fitness classes in my community.
My biggest accomplishment comes from outside of my professional life and is my 11-year-old son Brodie, who currently is in sixth grade at Woodbury Middle School in Woodbury, Connecticut. In the warmer months during my off time, I can be found spending time with him and my loved ones on the Connecticut shoreline or on Bantam Lake in western Connecticut, where my family and I are very involved in their water ski team. During the colder months, we are avid snow skiers and enjoy spending time in Vermont.
The main goal of Athena's Wellness Program is to enhance residents' lives by engaging them in meaningful activities that benefit their bodies, minds, and spirits. It is proven that all three of these components contribute to and affect one's overall wellness. By working closely with our Therapeutic Recreation Staff, the Wellness Program will continue to grow within Athena.
Through years of my research, all three components of health, wellness, and holistic healing affect a person's life, and our goal is for Athena centers to not just treat aging, illnesses, or injuries, but rather, treat the whole person and all of their needs!
I define wellness as the act of practicing healthy habits on a daily basis, to enhance all areas of life. Wellness comes from a lifestyle that includes making decisions and practicing behaviors that are based on health knowledge and healthful attitudes.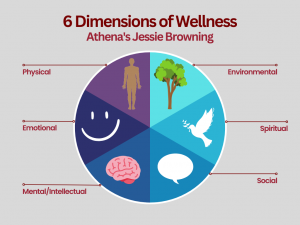 We do not want to just survive, but THRIVE! Eating healthy and exercising are the two most widely discussed topics, but as we know, there are many other important areas in one's life that contribute to wellness. Wellness can be broken down into many different categories. I find the following six dimensions are best: physical, emotional, social, spiritual, environmental, and mental/intellectual. We all have needs within these dimensions in order to feel our best. 
As everyone knows, the healthcare industry has been challenged these last few years navigating COVID and still trying to work our way through our "new normal." Physical and mental health decreased dramatically when the pandemic hit for our residents and our staff alike, many of whom are still feeling the lingering effects. Thankfully, we are moving back to the social gatherings we love like having entertainers, visitors, and vendors in our buildings. Since starting this Wellness Program in 2021, most facilities in Connecticut have a local practitioner visiting frequently to share their gifts of wellness.
These programs range from:
Certified Sound Healers

Mindfulness Practitioners

Gentle Yoga/Exercise

Animal Therapy

Therapeutic Drumming

Reiki

Tai Chi

Qi-gong

Deep Breathing and Visualization Exercises
My goal for 2023 is for this blog to be a place for Athena employees, friends, residents, families/loved ones, the community, and beyond to have a user-friendly resource they can go to in order to gain some insight, knowledge, tips, or tricks to increase you or your loved one's wellness.
I'm open to content suggestions or workshop/event ideas for our residents and staff. Remember, as caregivers, we can't pour from an empty cup: in order for us to effectively take care of others, we must first take care of ourselves.
If anyone is interested in teaching Athena residents, contact Jessie Browning at jbrowning@athenahealthcare.com.
Let's kick this blog off with some helpful tips to cut back on sugary drinks!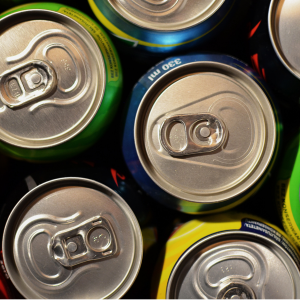 It's the time of year when many people have made New Year's resolutions often relating to their health and wellness. Whenever someone tells me they want to start to get healthier, the first thing I recommend is trying to cut down on consuming drinks that contain sugar. As we know, consuming too much sugar in our diets can increase our chances of getting type II diabetes, heart disease, high cholesterol, depression, and is even linked to Alzheimer's Disease. Therefore, it is really important that we start trying to cut sugar out of our drinks when possible.
Take a minute and think about what you drink during a typical day. Unless you are a true water lover, you may be getting some extra, unneeded sugar and calories through sweetened soft drinks, sodas, iced tea, coffee, juice, energy and sports drinks. In fact, sugary drinks are the number one source of added sugars in our diet and some research suggests that, when you drink calories rather than eat them, your body's hunger is not as satisfied. This can lead to people consuming more calories than they actually need.
Below are five tips to help you cut sugary drinks out of your daily routine:
Don't go cold turkey: If you consume a number of sugary drinks daily or weekly, don't try and stop them all at once. You will have a much easier time creating a healthy habit by slowly decreasing the number of sugary drinks you consume over time. It will also decrease the risk of binging after depriving yourself of something you are craving and cut out too quickly. For example, if you drink three sodas a day, cut it back to two a day for the first month. Then the following month, cut it back to one every day or one every other day and so on. Remember, there's a reason why quick fixes don't usually work. Slow and steady wins the race.
Go for some bubbly: Unsweetened seltzers, sparkling waters, or bubbly waters are great for adding some flavor to your drinks without adding extra calories. There are many brands of plain bubbly water out there. Others such as LaCroix and Hint have flavored sparkling waters that contain no sugars or artificial sweeteners. If you are trying to lessen or slowly cut out juice in your diet, try and dilute the juice of choice with some of these bubbly options. These are also great low-calorie options to use as a mixer with alcoholic drinks.
Go Green: Ditch the multiple cups of coffee throughout the day and add in more green tea when you need a little caffeine fix. Green tea contains theanine and this compound has a natural calming effect, resulting in an enhancement in mental alertness without the uncomfortable buzz that may be experienced after drinking coffee or energy drinks that usually contain sugar. It also will keep you more hydrated – which in itself will increase your energy levels!
Add branched-chain amino acid supplements to your water for flavor if you are active and workout: Since my background is in health and wellness, people often ask out of curiosity, "What is in your water bottle?" Oftentimes, I have a fun bright color like pink or orange liquid, which could easily be mistaken for a Gatorade or sugary drink. I have a hard time consuming just plain water and, since I do workouts that help to build muscle, I incorporate a supplement of branched-chain amino acids into my diet. Your body needs 20 different amino acids to grow and function properly; 11 of these amino acids are classified as Non-Essential meaning your body already makes them for you. The other nine are called Essential amino acids and need to be consumed through food or supplements. Foods that contain all nine essential amino acids are called Complete Proteins and are found in foods such as fish, poultry, dairy, quinoa, and buckwheat. If you don't consume enough foods that contain these nine essential acids and/or if you are diligently active and working out your muscles, you should think about adding an amino acid supplement into your routine. Amino acids help to repair your muscles; also, If you are sore from a workout, it will help speed up recovery too!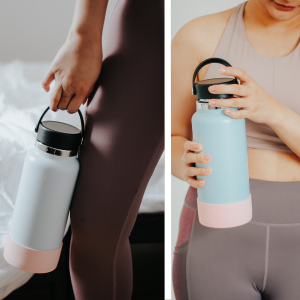 Don't ditch the water! There's nothing better than sticking to old faithful – WATER –  and adding in some healthy flavors you have in your house. Adding in slices of lemon, mint, cucumbers, or berries (fresh or frozen) can create new flavor combinations and also add in some extra nutrients and vitamins. I make a big pitcher in my fridge with whatever extras I have on hand in my kitchen and even my 11-year-old son enjoys drinking them (whoa!). If you have any little ones in your house or visiting, it's honestly a fun little activity for them to partake in as well.
See you in February!
Love & light – Jessie